---
---
2002 2003 2004 2005 2006 2007 2008 2009 2010 2011 2012
---
Short movie night at TVA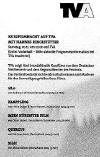 It is not a triumph but a great honor when the jury and the organizer from TVA East Bavaria choose our movie, which was shown at the Regensburg short movie week, for the short movie night at TVA. SAT 20th Nov. 2004 at 10:00 p.m. at TVA East Bavaria "My shortest movie" by Oskar & Daniela Siebert / Regensburg
---
KURZ FILM WOCHE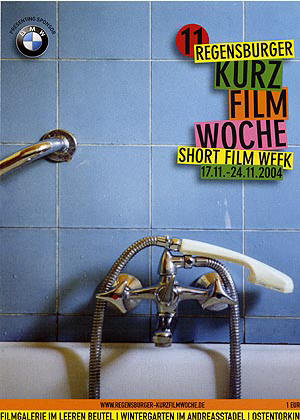 ---
BATAVIALE 2004
Gold and silver medal for Regensburg movie makers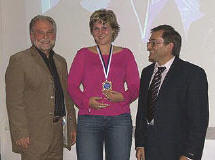 Every fourth year an international video festival takes place in the city of Europe Passau. This year more than 100 movies from over 12 nations participated in six categories. The festival jury nominated 67 short movies and videos for the projection and for the international jury. From Thursday 30th Sept until Saturday 2nd October not only the jury but also many people and movie authors from the different corners of Europe could enjoy the movies on the big screen. Also this time, two productions from videoaktiv Regensburg were shown. In the category of documentary, the movie about the Regensburg painter "IVANA KOUBEK" was awarded with a silver medal. The international successful short movie "The Prague Romance" had won the Gold medal at the Bataviale. Daniela Siebert, co- author and student at the University of Regensburg were given the medals by the director of the festival, Mr. Rudi Obermeier.
Photos by the organizer:
---
Dear Filmfriends,

In memorial of our film friend and president of the BDFA ( Germany Film non professional Federation)

Mr. Hansjoachim Stampehl

who died on the 14th October 04 , after a long time being sick.

videoAktiv Regensburg
---
Our start.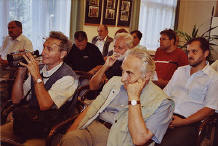 After the completion of a movie you expect the impression the short movie has made on the audience and the judges. This year it was the same with "My shortest movie".
It was shownthis year at the "46th Rychnov 8" in the Czech Republic, for the first time. Our short movie not only impressed the judges, but also convinced them and therefore our short movie was selected for all of three public presentations.Almost 1.200 viewers have seen our movie this time. It was a viewer record at a non – professional film (movie) festival. The authors who were at the festival also were impressed by our short movie and as amateur – judges the gave the second price of the movie – category to our movie. The expert committee rewarded our movie with a special price because they didn't get the punch line because of the czech translation. Only Mrs. Mgr. Ludmila Lojdová member of the judge understood the punch line. No judge has the right to fall a sleep during a presentation. Besides that we were very satisfied with the start of our newest short movie we're made with our movie – colleagues from the Czech Republic.
Now we are able to also proudly present our "My shortest movie" at other festival of the non – professional movie.
English translation
Dorothea Kühne
---