DANKE/Thank You /Dekuji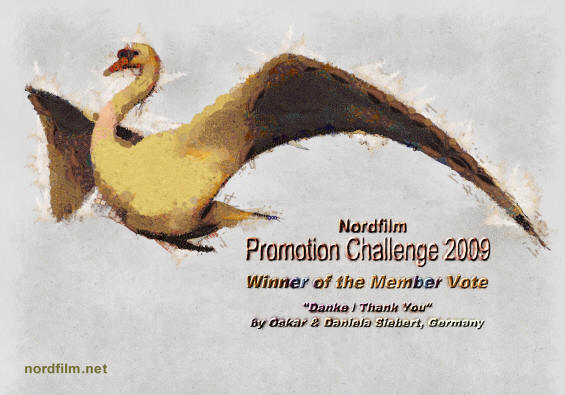 Also this year we have taken part, in this year's north film Doctorate in Challenge in 2009. Although ours 1.min short film THANKS by the professional jury not it was distinguished, the judgements as well as the criticism became very positive. Very pleasantly ours became to the visit number as well as the spectator's evaluations with it Film as - Winner of the Member Vote - was called. 19 productions stood not only the professional jury but also to the spectators for her judgements. On the 16th of May at 24 o'clock the results were announced:
We have the winners!

1st prize: "2040" by Guido Haesen, Luxemburg /56 times elective/
2nd prize: "Coincidence" by Hans Vaisma, Estonia /50 times elective/
Winner of the Member Vote: "Danke/Thank You" by Oskar & Daniela Siebert, Germany /162 times elective/
We thank all visitors who have our short film eingeklickt and also for our film your voice delivered. Our film is free for downloading.
Thank you
Oskar and Daniela Siebert
videoaktiv team
#1- A really good movie which in a few scenes showing human helpfulness, or lack of same
#2 - A good film that gives food for thought about. our fellow man!
#3 – THANKS! Finally a rain movie!(Why don't we film makers shoot those more often?) The rain fits very well with the mood of the story. It is a small, subtle story that therefore plays rather gently.

Solidly camerawork, picture construction and editing. The single piece of dialogue: "Get lost!" is accentuated.

The principal actor is very expressive without exaggerating. Quick glimpses and facial expressions. Almost dull. To the slight smile and the disturbing ear-muffs, that are so ugly, they become beautiful again.

In the end, the man in his hole-filled socks simply walks off out of the picture....
What do I like: it remains unclear why the man stuffs his shows in and goes away. (Who would really do this?) But each viewer can think about it for himself - and I like that in the film.
I would have cut the man's stares a little and rather gone with a gentle pan, so that the film would flows better.

And one until a little colour adjustment of the pictures would have given the film a little more moody look.
#4 - This amusing and thought-provoking film is not new. It has had considerable success. It is very well made.

It tell its little story very well indeed. The stormy weather is not essential to the plot, but does add to our sympathy for the hero. The soundtrack is very well composed of rain and thunder sounds, few of which were probably recorded at the time.

The moral lesson: that those who are poor best understand the need to help those who have nothing. It is nonsense, of course, for him to walk off in the remains of his socks. But his ear-muffs suggest he may not be totally sane.

The fact that such a shop has such a collection box, but tells the tramp to "Get lost!" – and that the lady customer is not encouraged to donate her old shoes – makes it clear that the shop keeper is a hypocrite.

If there were some obvious way to link this to a promotion for NordFilm it might have been a winner, but it is complete in itself. The message its promotes is a different one.