35th Festival of the Nations - Festival of the Superlative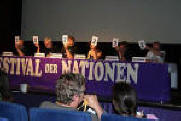 Not without a reason the festival director of the Festival of Nations wrote into the program: "The best non- commercial short films and videos from all over the world". This year the pre- jury had to sort out the best films from over 900 competitors from different countries, until they had the best ones to show the jury and the audience.
On the 17th June, Erich Riess the festival director and numerous proms from culture and politics started the 35th Festival of the Nations. From 10 a.m. until late in the night the films are shown every day. The international jury beside the head Mr. Dave Watterson from England, were Mag. Monika Haskova from Prague (CZ), Rolf Leuenberg from Switzerland, Mag. Art Willhelm Krausshar from Austria and Citrad Stipl from Czech. They had no easy task to fulfill, not only to make a fair appraisal but also give skilled advices and talk about the films. On the day of the "prominent juror" I had the honor to meet and experience Mr. Mag. Arno Aschauer, head of the film school in Vienna, Book- author, director and program leader of the Austrian TV. I was amazed by his professional and highly qualified judgment. At the program is not only work and watching films.
The numerous helpers of the organizers under the head Eva and erich Riess had a colorful program for all visitors. Everybody who comes to Ebensee has not only the possibility to see great films, but also to meet the film- authors, to build up contacts and friendships with people from all over the world.
Everybody who visits Ebensee and the Festival of Nations only once will come back every time. And this is not only a great honor for the organizers, but a from the heart spoken "THANK YOU"
A report by Oskar Siebert/ Regensburg, Germany